Well hello there!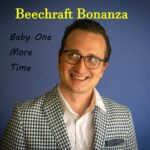 Today is very special, I have released a new recording!
This was the first song that I adapted in my exploration of the "All Pop Music Comes From The Blues"-theory, and I must say it turned out pretty well!
And even better news: this is just the first in a string of new music releases coming up this year. Expect another single in March and a full EP by the end of April! 😀
Meanwhile, backstage, I've signed up for February Album Writing Month 2023 (FAWM2023) which will hopefully yield a bunch of new original songs to follow up on the current covers run.
If you're curious about the other upcoming records, why not drop by at Theatercafé Muze this Sunday afternoon?
There I'll be playing the set at 12:00, 13:30 and 15:00.
See you soon and keep a-rockin',
Beechcraft Bonanza