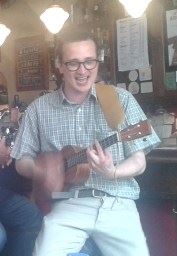 Hallo vrienden,
Na jaren inconsistent bezig te zijn geweest met muziek, begint er nu toch een tijd te komen dat ik mezelf bezig kan blijven houden met het maken van muziek! Good Times!
Zo kun je aan de rechter kant van deze pagina zien dat ik lekker veel optreed, onder andere aankomende zondag (14:00) in het Erasmuspark. Bovendien speel ik volgende week vrijdag (30 september) een supertoffe gig bij Bier, Bands en Bunkeren XXL! Hier zijn bovendien nog kaarten voor beschikbaar, dus als je daar graag heen wilt, stuur mij dan een bericht via facebook of een mail naar info@beechcraftbonanza.nl. of bestel ze via mijn bandcamp pagina als je paypal hebt.
Verder heb ik nog het lumineuze plan om véél meer nummers te schrijven, op te nemen en uit te brengen.
Zoals ik al eerder verteld heb verschijnt deze maand elke week een nieuwe Buddy Holly cover op de digitale winkels (spotify, itunes/apple, google, amazon en deezer). Momenteel zijn al 3 van de 4 beschikbaar: Baby won't you come out tonight, everyday en Crying, waiting, hoping en komt volgende week de laatste: Love Is Strange (staan nu op de "muziek" pagina)
Ondertussen werk ik ook nog aan een kleine Halloween-EP van 3 nieuwe eigen nummers met spookachtig thema. Deze EP (of 3P) moet de eerste worden in een reeks van 6-wekelijkse Ep-tjes, elk met 3 nummers, noem het maar 3P-tjes ;). Dus vanaf 31 oktober elke 6-weken nieuwe muziek van Beechcraft Bonanza!
Graag tot ziens!
Keep-a-rockin'
Guido/Beechcraft Bonanza